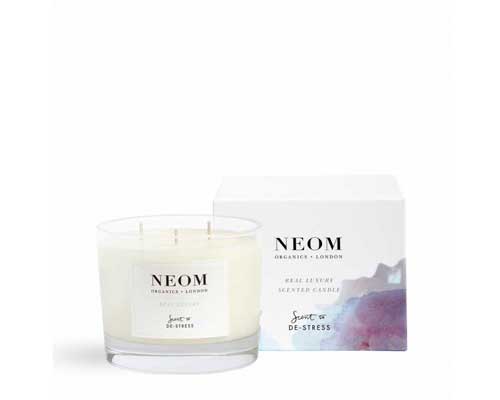 OUR TOP 5 SELF CARE PRODUCTS
elf-care is about putting aside some time to take care of yourself and do things that make you feel good. We mean it when we say – YOU deserve this!

We can all feel overwhelmed and stressed at times but in order to manage this, it's important to give yourself a break and focus on YOU.
Take time to do what makes your soul happy.
We will all have unique and individual ways to relax, be calm and de-stress, whether that's a yoga class, getting your nails done, or getting stuck into a great fiction book. So, to help you make the most of your me-time, we've included some of our favourite self-care products and ideas below.
Treat yourself to a candle
Lighting a candle is a lovely way to create a calming and relaxing atmosphere in any room. We'd recommend lighting a candle before bed to help your body wind down and relax before getting those important ZZZ.

We love the collection from Neom Organics, in particular their 'Scent to de-stress' range, which has been specially formulated to create a deep calming effect on the mind and body.
Invest in a journal
I'm sure many of us kept a diary at some point during our childhood, but they're actually hugely beneficial. Journaling is said to bring you into a state of mindfulness, helping to discount any current frustrations and anxieties – bringing you back into the present moment.

The best part of it? You can personalise your journal and manage it at your own pace. So, whether you write down your daily affirmations, keep track of your days, draw, paint or simply write any thoughts – you can make it your own.

We love this Personalised Foil Notebook from Not On The High Street. You can add your name, plus it makes the perfect gift for someone else!