FOR THE MOMENTS THAT MATTER
At Zing Flowers, we believe that little moments matter and the smallest gesture can make the biggest difference to someone's day. We adore random acts of kindness and champion the 'extra-milers', who send gifts to the people they care about… 'just because…' We want to make it easier to send the perfect gift to make a positive difference to someone's day – because whilst we love the big occasions (like the Valentine's and milestone Birthdays), we also want to celebrate the small wins and victories with beautiful flowers.
HAPPY FLOWERS, HAPPY CUSTOMERS
When we started Zing Flowers, we wanted to add a little extra happiness to our customer's day through our zingy products, bright yellow boxes and special offers for every occasion. We know our customers care about quality and where their products come from which is why we use the freshest flowers from fair sources so you can have peace of mind that your flowers and their growers are happy too. One thing our customers always praise us for is the quality of our flowers – they arrive looking like they are meant to, and last.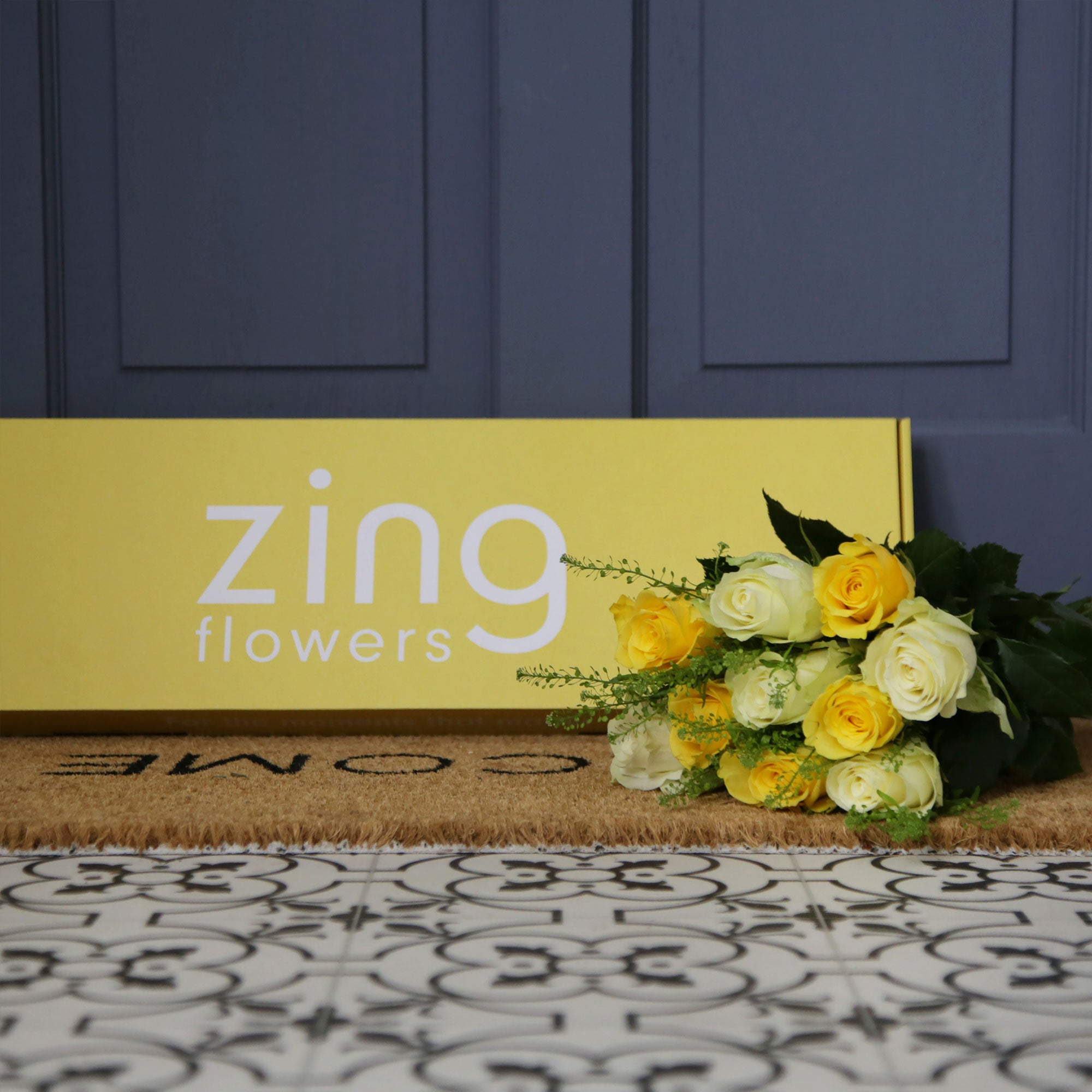 FLOWERS FOR EVERY BUDGET
We cut out all the wholesalers and middlemen that add time and money to your flowers to ensure we're providing a range of prices and only the highest quality, freshest bouquets. With flowers suited to a range of budgets, from super luxury gift sets or our handy and affordable letterbox flowers - we are sure you'll find the perfect Zingy gift.
COUNT ON US TO ADD A LITTLE ZING
Here at Zing Flowers, we believe that life is made up of a million beautiful moments and by adding a touch of zing, we can bring a smile to them all. So if you are looking for a gift to bring something a little special to someone's day – whatever the reason – you can count on us to add a little something extra. We are here to help you find the perfect bouquet and have a dedicated team which will go the extra mile to ensure that you are satisfied with Zing Flowers, with our 100% satisfaction guarantee.
When flowers arrive at Zing Flowers HQ...
They are conditioned again and our florists then work their magic and the flowers are sent to our customers as soon as they're ready.
What's it like to be a Zing Flower?
Life is sweet for a Zing flower. Our flower stems are purchased, conditioned and brought to the UK often within 18 hours of being cut.