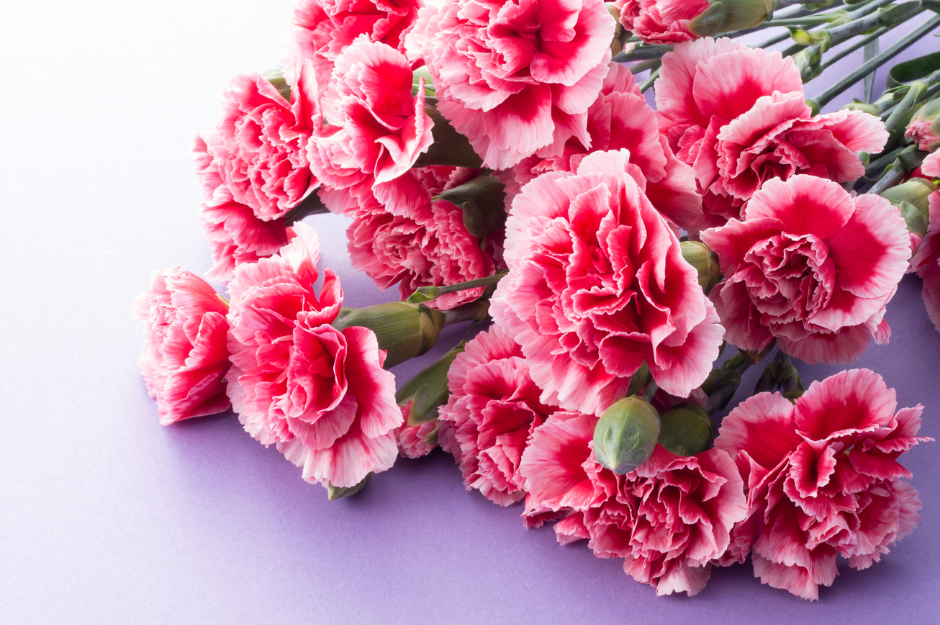 January's birth flowers: carnations and snowdrops
Did you know every month has at least one birth flower? Just like gems and stones, these flowers are associated with a particular month of the year, and are packed with symbolism.
January has two birth flowers: the carnation and the snowdrop, both unique and wonderful, and we're going to explain why.
Carnations, or Dianthus caryophyllus have been loved since ancient Greece. Broadly symbolising sentiments like admiration, good fortune, and joy, the different colour carnations also hold different meanings. For example, pink carnations infer a mother's love while a purple carnation can mean whimsy or condolence the latter perhaps explaining why carnations have been used to make funeral sheafs and flower shapes to lay at gravesides for decades.
For the most part however, carnations have happy and positive meanings, and in some folklore were even believed to have powers when used in arrangements or worn - fresh red Dianthus would be placed in the room of medical patients to promote strength and healing energy.
Snowdrops, Latin name Galanthus nivalis, also go by Dingle-Dangle, Snow Piercers and puzzlingly, Maids of February.
The association with January likely comes from their earliest flowerings coming in the first month of the year, and are heralds of the inbound spring season, albeit slightly early going by the current temperatures!
Snowdrops symbolise hope and purity, and with their darling bell-shaped blooms and crisp porcelain white colour, it's not hard to see why this flower holds those meanings.
You're unlikely to get snowdrops in a bouquet, as they don't grow very tall, but if grown in your garden make really sweet single-stem jam jar posies. Carnations however are grown in their thousands every year and are a favourite in bouquets for their wonderfully frilly-edged petals and array of colours. Take a look at our current bouquets featuring carnations and send it to someone celebrating a birthday this month.