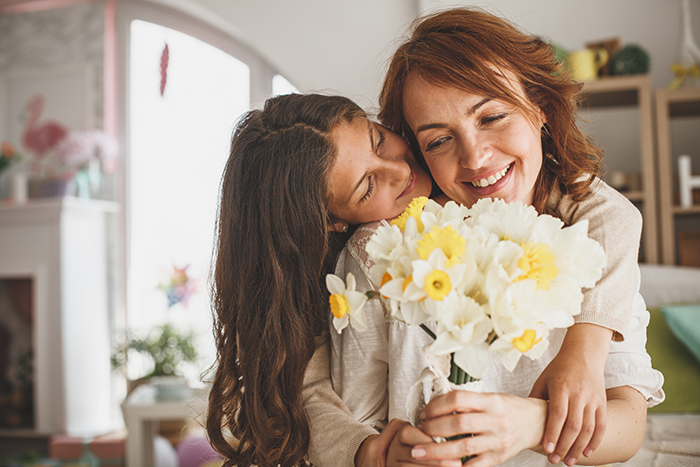 Our Top Gifts to Pair With Your Mother's Day Flowers 🌷
We can't think of anything better than flowers to surprise your special role-model with on Mother's Day but if you want to go that extra-mile with an additional treat, here are our top gifts to pair with your flowers.  
1. Chocolate or Sweets
🍫
 
Salted Caramel, Orange Zest, Fruit & Nut. If your special someone is a fan of sweet treats, pairing your bouquet with a tasty chocolate bar or some sugary candy is the way to go! With so many flavours now available, you'll be able to indulge them with something special. And for any easy shop, you can find our Letterbox 'My Role-Model' with chocolates gift set to make sure your delivery comes all at once. 
2. Spa Experience
😌
Who wouldn't want a relaxing day at the spa? From facials and massages to hot tubs and pedicures, your mother will be elated with a calming getaway so she can put her feet up. Many experience day websites have plenty of vouchers you can choose from, whether it's a one-day trip or a whole week retreat. (Some may even include a plus one) 😉 
3.  A Bottle of Bubbly
🍾
Prosecco, Champagne, wine and more - you can't go wrong with adding an alcoholic beverage with your flowers. Whether they enjoy a glass of bubbly or are a dedicated wine connoisseur, you can treat your loved one to their favourite tipple. Find our wide selection of bottles here, all available to add with our hand-tied Mother's Day flowers. 
4. Candles & Smellies
🕯
What is your favourite scent of candle? There are so many available it is hard for us to choose. If your special Mother's Day someone is a smellies fan, adding a candle to your already wonderfully scented flowers is a great enhancement. Plus, your thoughtfulness can live on as long as the candle lasts. Check out our Mum of a Kind gift set which includes a scented Bee Loved candle, hand cream and our gorgeous Mum of a Kind bouquet.  
5. Night out with dinner
🍽
Think of their reaction…they have just received some beautiful Zing Flowers for Mother's Day and then find out they're being treated to a special meal too! Make sure to reserve a table at their favourite restaurant and have a delightful Mother's Day lunch. Plus, when you order any of our Mother's Day bouquets to be delivered on Mother's Day weekend, your flowers could include a special £50 restaurant voucher thanks to our friends at Prezzo. Find out more here and you could have Mother's Day flowers AND dinner sorted! (T&C's Apply.)
Find all our wonderful Mother's Day flowers and many more gorgeous bouquets available for all occasions here.